ID Symposium
ID Symposium
ID Symposium
The 2nd of May, we will organize a symposium about "The Power of Industrial Design" with the aim to inspire and teach what you can achieve with your Industrial Design degree. Don't forget to mark this in your calendar!
ID Symposium will be a spectacular day with stories from inspiring speakers in the field of design, insightful workshops, a three-course dinner, a network drink and more! This day will not only be inspiring, but it will also allow you to meet new people in the field of design! More information about the speakers and the day programme will be placed on this page. Stay tuned!
Day Host
Rudy van Beurden
On May 2nd, you will be guided through the program by "stuiterbal" a.k.a. host Rudy van Beurden. He also studied at TU/e in Architecture, but he spent more time on his final presentations than on his floor plans. As a result, his passion for public speaking led him to become a professional speaker. In the past 11 years, he has presented numerous programs throughout the country, met extraordinary people, and gained valuable insights. This charismatic Eindhovenaar with a rolling R is looking forward to meeting you at the Karzerne.
The Power of Love
Opening by Kevin Pfeil
With 10+ years' experience in the video marketing industry, Kevin Pfeil specialises in strategic concept development. Originally trained as an Industrial Design Engineer, he soon discovered his passion for visual storytelling and now applies design driven methodologies to inspire audiences and enhance brand experiences. His approach combines classical marketing theory with sociology, psychology, and cinematography to transform minds, attitudes, and behaviours. He strongly believes that video has the power to change the world and make it a better place for future generations.
Out of office, Kevin spends most of his time with his family, building Lego with his two boys, and supporting his local football team.
The Power of Sharing
Alumni Talk Show
Wouter Reeskamp
Wouter is Sophisti's co-founder and Creative Director. He oversees and engages in all parts of connected product design including Industrial Design, Mechanical Engineering and User Interface Design. Sophisti connects physical objects and digital media by combining skills from industrial design, software and electronics development.
Tom Raijmakers
Tom started in December 2020 his own whisky store, Whiskeylab, in Eindhoven. Besides that, he is the owner of the design studio 'Fabriquesfoutje' where he offers creativity a la carte. He does tailor-made creative solutions to any of your problems. Consultancy, production, branding and wording with one connecting factor: bright ideas.
Yasemin Arslan
Yasemin is a social designer in the municipality of Eindhoven and is passionate about supporting people and organizations in the context of societal challenges, development and transformation. She designs for empowerment, by discovering and bridging the needs of involved stakeholders and creating tools, processes or services that offer grips for the people involved.
Bianca Serban
Bianca is on a journey to become an expert. She is currently a PhD Candidate at the TU/e for the ITEA project Inno4Health. Where she is in charge of conducting research through design on the topics of preventive technologies for cardiac patients or professional athletes.
Chris Heger
Chris is the Co-Founder & COO of two high-tech companies, SPINNOV & SMARTGOALS, in the Brainport region of the Netherlands. SPINNOV is a leader in design & engineering agency specialized in the development of IOT systems. While SMARTGOALS offers Performance, Training and Fan Engagement technologies and experiences for Football clubs and Sport brands.
Iris Bataille
Iris is an interaction designer and design researcher passionate about creating meaningful user experiences. Through taking a user-centred approach and making design concepts experienceable, she bridges the gap between the digital and the physical world. Currently, she works as a design researcher for the Rabobank.
The Power of Doing
Workshops
The Power of Practical Machine Learning
In this workshop, you wil go through the machine-learning pipeline by collecting, pre-processing, training, and testing data. We will use Edge Impulse to do most of the work for us, but you will receive insightful tips and tricks to start creating your first working model. As this is a practical workshop, you will start with collecting data in this workshop using an Arduino. You will then use this to train your model. After this workshop, you will hopefully have the tools to create your own machine learning model for your project.
The Power of Production
Mitchell is the founder of Studio Tast. Studio Tast consists of a multidisciplinary design team, specialized on the cutting edge of technology, design and learning. Their focus is to make learning tangible by designing innovative products and systems.

"Doing" is one of the most important parts of our design process. Physical products are (mostly) produced in-house at their own production facility in their Eindhoven office. Focused on quality, sustainability and local production.

In this workshop you'll be taken into the world of production. Learn the pros and cons from mass production to local opportunities and get hands-on insight in how to apply it yourself.
Design the work life you love
Designer Iris Jönsthövel @iris.alta has created a hands-on workshop to help you figure out what you'll need from your future (work) life to feel fulfilled. Her unique approach to 'designing the (work) life you'll love' gives you the actionable design tools necessary for defining what to pursue next.

With explorative templates and a set of associative stickers you'll be mapping things about yourself that matter to you most and can use as your guiding principles for future life decisions. At the end of the workshop you'll have an overview of what you need to feel aligned in your (work) life and alter your job search to reflect that.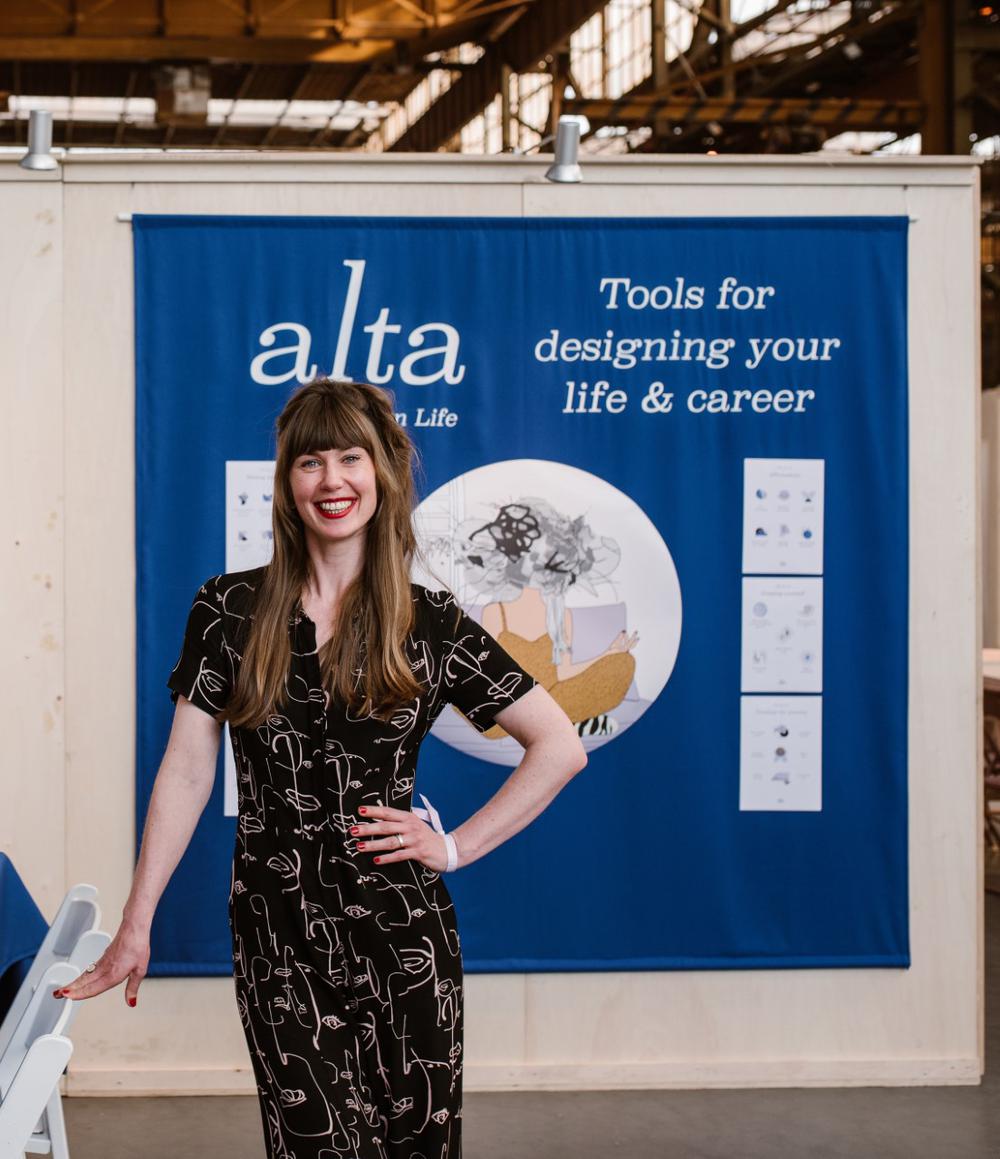 The Power of Design in Wicked Problems
There is momentum for designers to take a significant role in the societal challenges we're currently facing. "The system beeps and creaks", said many Dutch (semi)governmental organisations. Alumni Marije Baars and Danielle Ramp will guide you through their experiences as social designers with many clients, stakeholders and challenges, ranging from mobility, energy, culture, care, and so on. How? By challenging you to figure it out yourself! (and yes, of course, we will reflect collectively afterwards). What does it take to design your way through the system? Let the games begin!
The Power of Opportunity
3-course Dinner
Inspiring dinner by Kazerne
In the industrial bar/restaurant Kazerne our chef Giovanni Gabana gives an authentic modern Italian touch to his menu. Together with his team he serves robust dishes, no-nonsense. During ID Symposium, the dinner will be vegetarian. Everything is homemade. This is the hot spot where the worlds of wine, dine, design and technology come together.
DLL
DLL is a global asset finance partner enabling businesses to more easily access equipment, technology, and software to help them grow.
We deliver sustainable and effective financing solutions, insights, and advice that drive smarter and more economical use of capital assets.

DLL provides financial solutions to the Agriculture, Food, Healthcare, Clean Technology, Construction, Transportation, Industrial, Office Equipment, and Technology industries in more than 30 countries. 
Headquartered in Eindhoven, the Netherlands, DLL is a wholly owned subsidiary of Rabobank Group.

DLL is happy to join the ID Symposium and introduce the financing world to you. We believe that your adaptive skills, creativity, and process design skills can be of added value to our company and that you will be able to evolve your skills and expertise within an international environment. We look forward to meeting you and discussing possible career opportunities.
Bureau Moeilijke Dingen
We are Bureau Moeilijke Dingen (BMD), a team of designers and engineers who love a challenge! At BMD, we approach complex technical challenges from a user-centric perspective, combining our technical expertise with our design background to create innovative and elegant solutions. Our team of passionate designers and engineers thrive on pushing the boundaries of what's possible, and we believe that the harder the problem, the more rewarding the solution.

At BMD, the user is always at the forefront of our minds. We delve deep into understanding user behaviour, preferences, and pain points to inform every aspect of our design process. Our goal is to create products that are not only visually appealing, but also intuitive, efficient, and enjoyable to use. Whether it's designing cutting-edge technology, creating innovative consumer products, or tackling complex industrial challenges, at BMD we will come up with a solution that fits!

The Power of Connection
Network Drink
Zeewaardig
My name is Iris van Houten, strategic social designer at Zeewaardig. In 2017, I graduated as product designer from the Design Academy in Eindhoven. During my studies, I have always been interested in social issues. I've designed a product to combat food waste and developed a bed with which you can catch some rest at work.
After my studies, I started by own company and tried to put my own product "a powernap bed" on the market. I also started teaching at Avans Hogeschool at the minor Healthcare Innovation Design. There, I've learned a lot about integrating people into the design process, and working within the context of social issues within healthcare.
After working as a teacher for three years, I wanted to restart designing. That is how I ended up at Zeewaardig. Within Zeewaardig as a social designer, I work together with many different parties to map the needs. We do research for the library of the future, and work together with museums to broaden the inclusivity. Together with Cure, we're also working on awareness about the importance of separating garbage.